"Viva San Antonio" print by Cruz Ortiz
To commemorate San Antonio's Tricentennial celebration, Texas Highways commissioned original artwork for the January 2018 issue cover: "Viva San Antonio" by Cruz Ortiz. A San Antonio-based printmaker and artist, Ortiz is influenced by the colorful nature of South Texas and by Mexican-American culture. This 18" x 24" piece is the perfect way to show off your Texas pride and celebrate the Alamo City's monumental anniversary.

Signed prints are expected to ship January 3, 2018.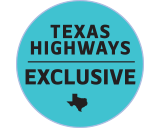 Related Items